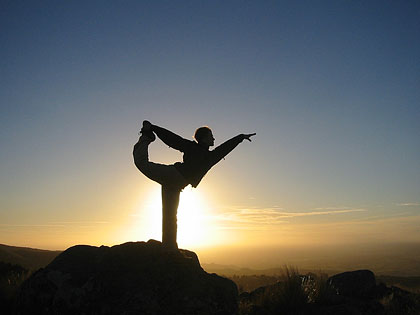 I've got a thing for water. I love to be in it. Near it. Next to it. Walking beside it. There is something so utterly soothing and reenergising about being near a large body of water. Even a small puddle really works if that's all I can near. Water fills me with a sense of rebirth, of fresh hope and of unlocked energy.
A billion or so years ago, in a life long ago when I had a full of head and long before my stomach muscles had given up the fight, my Aunt introduced me to a world of peace, and imagination. A place where anything was possible, and everything highly probably. The first time I meditated I lasted about thirty seconds before the brain chatter grew so great, I could do nothing but concentrate on it alone.
I find meditation to be almost as refreshing as standing with my feet in the ocean. More so if I can manage to shut the brain chatter up for a few minutes at a time. A few years ago now, I wrote an ebook. A collection of meditations, that combined whimsy, silliness, creativity and visualisation into a series of exercises designed to give a person the opportunity to quieten the brain chatter and release energy blocks.
I remember when I wrote it. I felt like a bit of a fraud really. I wasn't a guru, nor was I a meditation master. I wrote it because it felt right to write it. I wrote it because these little 5 minute wonders were all that consumed me at the time. I packaged the mediations all up together and released them as an ebook. It was there my courage gave way to feelings of being a fraud and I just let the book do its own thing.
Over the years I've gotten revenue reports from the company I hosted it with. Never much, a few dollars here, a few dollars there, but I always thought of the book as "not being successful". The reality is, in the last couple of years I've gotten those revenue reports pretty much every month. As an unknown writer, to know that at I'm selling two or three copies every now and then is actually pretty good. Particularly given the books has received pretty much zero in the way of marketing.
My eBook, 5 Minute Meditations for Busy People, is kind of like me. Not over successful to most people unless you look at it in a certain light. Comparing the book to something like say, the Harry Potter series is a daft way to look at it – yet that's what I did, shhh – and yet it's still out there doing it's own journey.
When I wrote it I remember thinking "if 1 Meditation helps just 1 person, then my job is done and I'll be happy". The reality of course was I hoped to sell a gazillion copies and help a gazillion people. The truth is, I've known of several people who have contacted me, thanking me for writing it, for putting it out there. Thanking me for the help they've received from some of the meditations inside it. Spring Cleaning, The Toy Store and The Energy Dance, seem to be the 3 that most people really resonate with. Dragon Flight is also up there.
I got caught up in the "reviews and recommendations" after the books release. When they didn't come about, I wrote the book, and myself off as a failure.  Thinking about why I wrote the book this morning, I've come to realise that like most areas of my life, I've been way too hard on myself.
I tend to do that. Beat myself over the head for perceived failures, and ignore totally anything that could be perceived as success. It's all a bit silly really. Yesterday I wrote about goals, and how mine never have an end point or internal steps so I never known when I actually achieve them. 5 Minute Mediations is proof of that. I set a goal, I wrote an eBook, I released it and people have bought copies of it. I've received emails and messages on Facebook from people who thanked me for taking the time to write it. And I still perceived it as a failure.
Last week while house sitting I metaphorically stuck my toe in water, and began to meditate again. It's been a while. I think it may have been one of the reasons I left that house completely refreshed and revitalised, ready to take on any challenge the job hunt brings my way.
I guess the point to this post is be careful what you look for because regardless of what it is, you'll find it. Success or failure, either one will be right at the tip of your fingers if that's how your inner dialogue perceives it.
When I was writing this post I googled the book title to find the amazon link. I was quite surprised to see it come up in 4 separate places; Amazon, LuLu, iTunes Books and Fishpond.com.au I didn't even know there was a website called Fishpond. How amusingly appropriate given my discussion at the start of this post about my love of water and puddles.
I'm still not certain what my next "Goal" will be, but I love the fact that this one is on the interweb for the world to see. The next time I forget that I actually did achieve what I set out to achieve feel free to smack me in the shins.